The migrant crisis is absolutely catastrophic and everyone in the world is feeling effects from it. For truckers in Europe, displaced migrants are causing huge problems. It isn't just the presence of these new refugees but also what European governments have done to try to rectify the situation that have actually made things much worse than before. Check out this trucker's account of the state of things in Europe for a trucker today.
Peering through his rain-lashed windshield, Zoltan Unczorg
alternates edgily between the brake and the gas pedal of his 18-wheeler.
"It's very tiring," the sturdy Hungarian complains as he crawls along
in a line of vehicles approaching the Austria-Germany border.

After
more than eight hours carrying fan parts, Unczorg has no more patience
for delays. And this day was better than usual. He's had to endure waits
of about four hours at this checkpoint, set up last September to hunt
for migrants on the A3 highway near the German city of Passau. It's a route he plies daily for electric-motor maker EBM-Papst Group.

"The
worst was last summer, when migrants were walking on the highway
heading for Germany," he says. "It was too dangerous to drive quickly,
you could hit them by accident."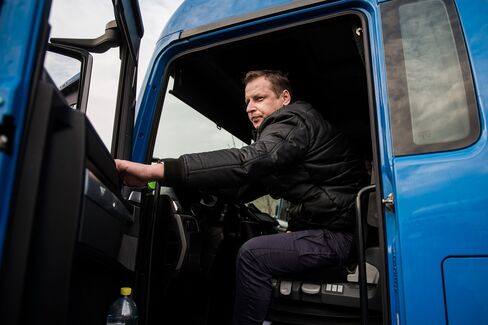 What
infuriates Unczorg may herald a sea change for Europe's economy,
business and even society: the erosion of a decades-old system that has
allowed borderless travel across 26 countries. Bringing back widespread
controls would be a blow for the most visible – or invisible – victory
in the 60-year quest for a united Europe, conceived in the rubble of
World War II. Free movement in what is called the Schengen area, for the
town in Luxembourg where the treaty was signed, took over where bunkers
and artillery stood on the Franco-German border and guard towers and
barbed wire defined the Iron Curtain between eastern and western Europe.

Now,
Germany, Austria, France and Sweden, among others, have reintroduced
border checkpoints in some places. They are pressured by Europe's
biggest refugee crisis since World War II – about 1 million migrants
arrived in Greece and Italy in 2015 – terrorist attacks, and the growth
of anti-immigration movements. But the economic cost of dumping Schengen, at a time when growth across the continent is still weak, would be massive.